4th November 2019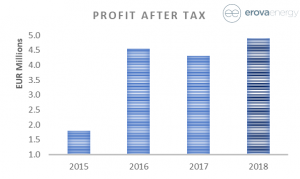 Erova have recently published its latest set of accounts and it was truly a transformational year for the business. During 2018 Erova delivered its strongest performance since inception in 2015, increasing turnover to €129m and delivering a strong net profit of €4.9m.
Attracting investment from Mitsui & Co., establishing a new Origination team, delivering its first Power Purchase Agreement in the UK and establishing a new Route to Market (RtM) product in the Irish I-SEM market all added to a great year for Erova.
Progress to date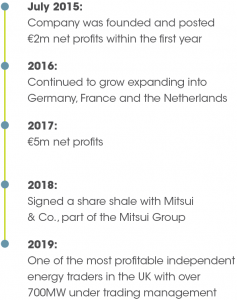 During 2018 we saw the introduction of a new electricity market for Ireland, moving from the SEM to the I-SEM. This market change presented several unknowns which Erova was preparing for through the year and allowing us to deliver to the market a wave of route to market products that provided generators and investors with protection from the new and volatile balancing risks.
Trading across Erova's key markets of Ireland, UK, Germany, France and Netherlands continued to delivery strong results and our approach of automating many of our processes allowed us to continue to streamline our costs and overheads.
Trader led Virtual Power Plant (VPP)
Erova has developed a number of key propriety systems that intelligently aggregating market data, which in turn provides detailed observations for the trade team to act upon. Our asset book is treated as a Virtual Power Plant but with traders at the heart of the decision making. Our systems are continuously optimising our forecasts, expected generation and overall pricing strategy of each asset. Automation is used in all our back office process collecting data and processing settlement, meaning more time is spent by the team on what counts to the assets we trade for.
2019 and onward
Throughout 2019 Erova continued to sign up new counterparties to our services with around 700MW now under management (600MW generation capacity and 100MW supply trading). We further developed our trading systems and continued to review how we interact with delivering data and trading solutions between our assets and counterparts. Further structured products have been developed to help support subsidy free renewables and our trading team has worked closely with Battery Storage developers to assess the merits of merchant storage within an ever intermittent marketplace.
Further details:
Full accounts can be found on the CRO website here. Please contact Nick Williams (nick.williams@erovaenergy.ie) with any questions or for further details on Erova's trading products.